A helpful tool for PLC development-PLC core board kit
PLC core board

is the most suitable module for developing your own PLC, and PLC core board kit is the best tool for PLC core testing. Today GCAN is going to introduce the useful development kit to you.

The

GCAN plc core board kit

is a high performance and low cost development suite. Based on the GCAN PLC core board, PLC core board kit enables users to quickly complete the sub distributed, network compatible automation projects. In addition, it helps users understand the advantages of

IEC 61131-3 PLC programming

over traditional programming languages. PLC core board kit can not only used to development your own PLC but also suitable for PLC teaching and studying.
GCAN PLC core board kit

uses for running GCAN PLC core board module rapidly. The circuit we offer can simplify the hardware design user develop.
This PLC core board has several kinds of function interfaces including power interface, one-channel Ethernet interface, one-channel RS232 interface, one-channel RS485 interface, two-channels CAN interfaces, 8-channels DI interfaces, 8-channels DO interfaces, one-channel USB serial, one RTC battery holder.
GCAN PLC core board kit
also has a 2*22 double row needles and uses for leading the rest pins in the module including power and IO interface. User can connect signal to external circuit you developed to satisfy all kinds of demands.

Here's the parameter of GCAN PLC core board kit.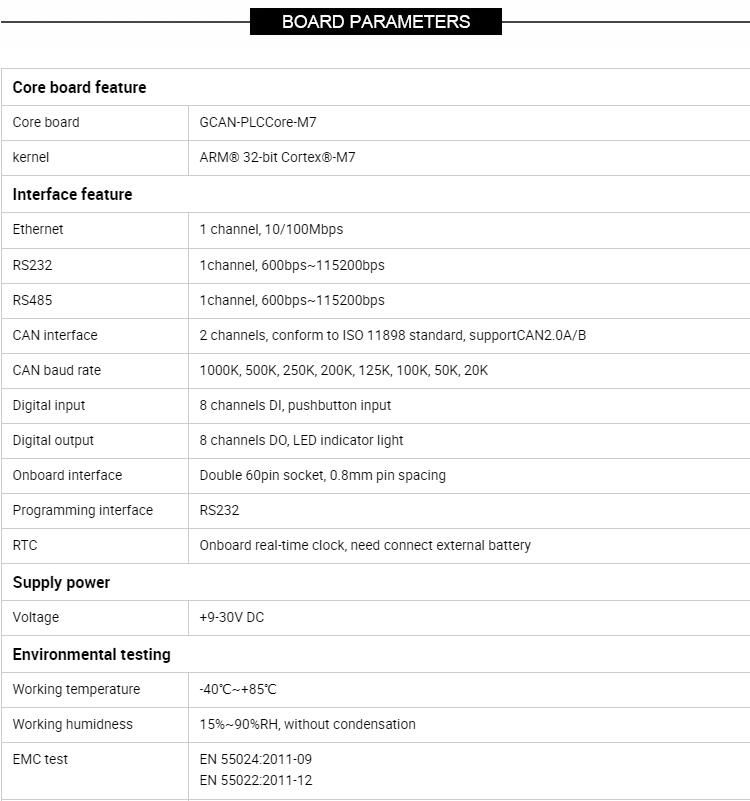 GCAN PLC core board kit