The introduction to GCAN-PLC
GCAN-PLC module is composed of a programmable control module (GCAN-PLC-400/510) and several I/O modules (GC-1008/2008/...). The control module uses high-speed CPU and has powerful computing and processing capacity.The control module also has a variety of fieldbus communication interfaces that users can use to connect to the corresponding network and communicate with other devices.

GCAN-PLC series can be programmed in 5 programming languages according to IEC 61131-3, including: SFC (sequence function diagram), LD (ladder diagram), FBD (function block), ST (structured text), IL (instruction table), this makes the PLC program easy to transplant. IEC 61131-3 also allows multiple programming languages to be used in the same PLC, allows program developers to choose the most appropriate programming language for each specific task, and allows different software modules in the same control program to be written in different programming languages.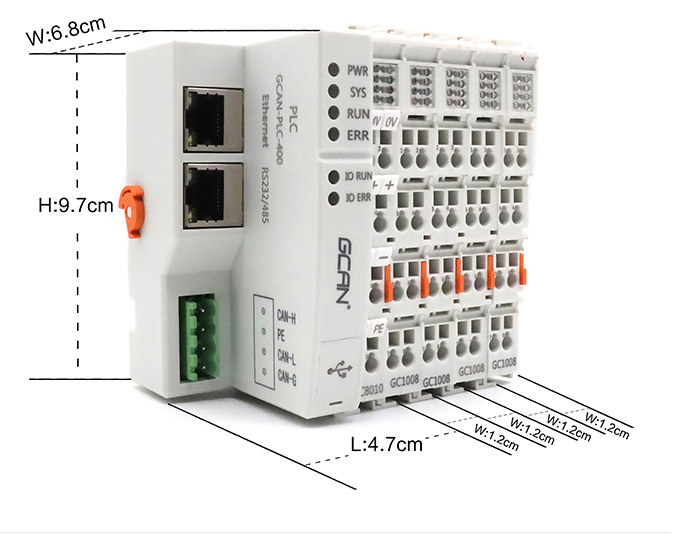 GCAN-PLC series uses the German enbedded real-time kernel system,which not only has strong real-time performance and processing ability,but also supports users to program with the 5 programming languages specified in IEC 61131-3 standard,including SFC,LD,FBD,ST and IL.Flexible use of familiar programming languages can shorten the project development cycle.
GCAN-PLC series has been integrated with RS232,Ethernet and CAN,three common industrial fieldbus communication interface,which can be programmed to realize the bus communication and networking.if users want to realize Modbus,CANopen and other communication protocols ,we will provide users with sample programs for their reference.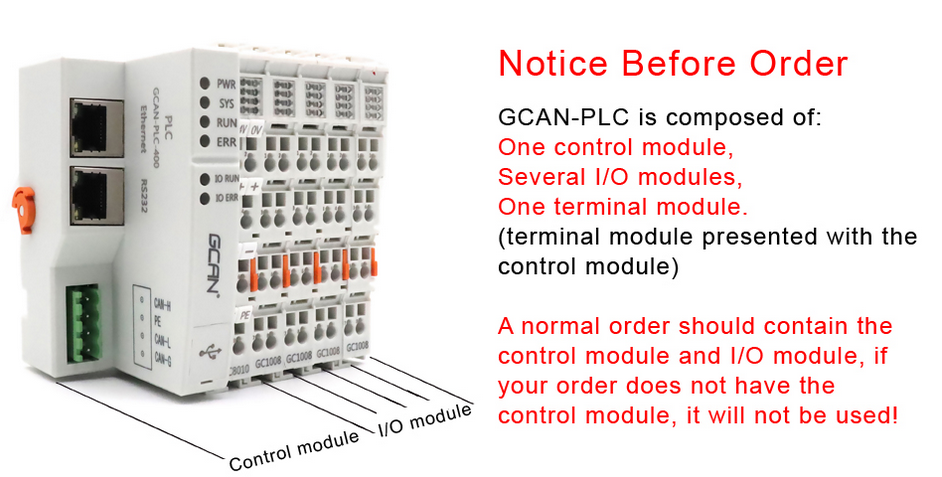 GCAN-PLC series can extend the amount of IO module according to the users actual needs.Up to 256 modules canbe extended.users can freely choose the type of IO,such as:analog quantity module,digital quantity module ,etc.GCAN-PLC series is very small size,users can extend a variety of functions in a compact space.Can meet the need of different customers.
if you want to know more about GCAN USBCAN, Pls contact us through:
Email: sygckj@gmail.com
Whatsapp/wechat:+86 13644001762