The Smart Use of Can Bluetooth Gateway
GCAN-203 can Bluetooth Gateway Tool is a key tool for industrial bus transformation and wirelessCA
N data acquisition. At the same time, the module has the characteristics of compact size and plug-and-play. Users can fix and install the module using standard DIN guideway, which makes it easy to integrate into the existing system.
GCAN-203 can Bluetooth Gateway Tool of Shenyang Guangcheng Science and Technology is an industrial CAN-Bus communication converter which integrates a standard CAN-Bus interface and transmits CAN bus data to terminal using Bluetooth. Using GCAN-203 can Bluetooth gateway tool, users can access CAN nodes and read CAN bus data using handheld mobile terminal (mobile phone/PAD). For some CAN networks which are not easy to connect physically, it will be very convenient to use GCAN-203 Bluetooth Gateway Tool to exchange data between wireless terminals and CAN networks. This module has been widely used to construct CAN-Bus network control nodes for data processing and data acquisition in CAN-Bus network fields such as field bus laboratory, industrial control, intelligent community and automobile electronic network.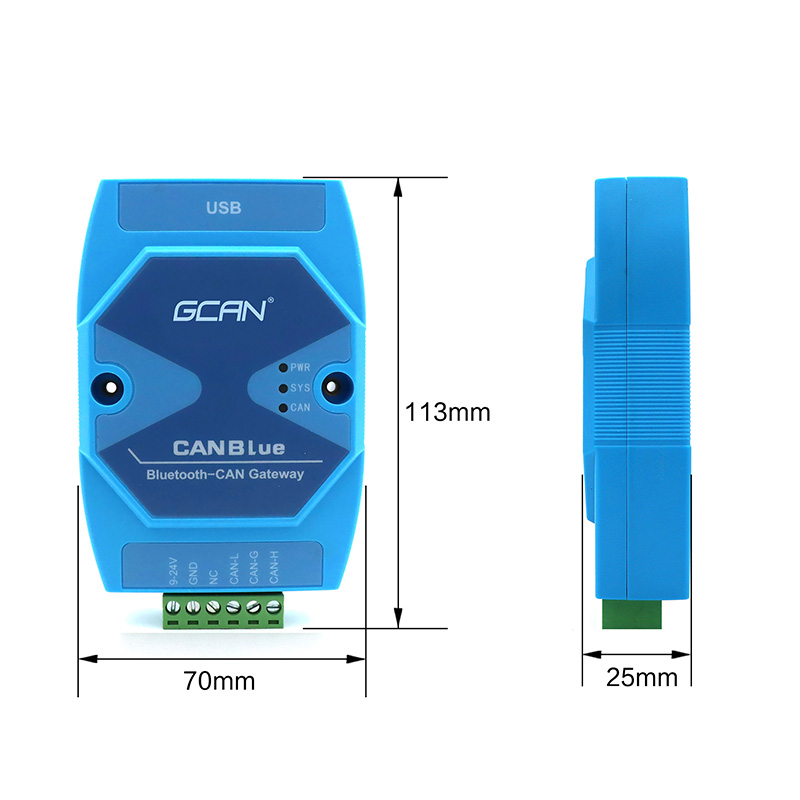 GCAN-203 can Bluetooth Gateway Tool is suitable for CAN-Bus low-speed data transmission applications with transmission rate of 300 frames per second. Similarly, GCAN-203 can Bluetooth gateway tool not only adapts to basic CAN bus products, but also meets the development of CAN-Bus products based on high-level protocols such as DeviceNet and CANopen.

1. CAN bus has a long data transmission distance of up to 10 kilometers, ranking first among all kinds of common bus types. Data transmission distance has better applicability, so it can be used in cars, large trucks or buses, which is very convenient.
2. The anti-interference ability of CAN bus is very strong, and it is easy not to be affected by external interference. Everyone has an impression of what kind of environment is inside the car. All kinds of machines and electromagnetic equipment are closely linked. Therefore, there are many opportunities for interference. If the anti-interference ability of CAN bus is not strong, the damage of node equipment will be caused by the slight outside wind and grass, which will bring driver safety accident. CAN bus, on the one hand, is not subject to external interference because of the differential voltage transmission signal. To say the least, even if the node is damaged by interference, the CAN bus will let the node actively break away from the control of the CAN bus, and will not let it continue to send wrong data to paralyse the whole line.
3. There are many node equipments that CAN bus can connect. One CAN bus can connect 110 nodes, which is really very rare for space-precious automobiles.