A Better Ethernet to CAN Converter
The Ethernet to CAN converter is a high-performance Ethernet to CAN communication converter that integrates 2-channel CAN interfaces and 1-channel Ethernet interface. The use of this Ethernet to CAN converter can realize the mutual transfer of data on the two types of buses, enable remote monitoring or control of the CAN-bus, and expand the application of the CAN-bus network.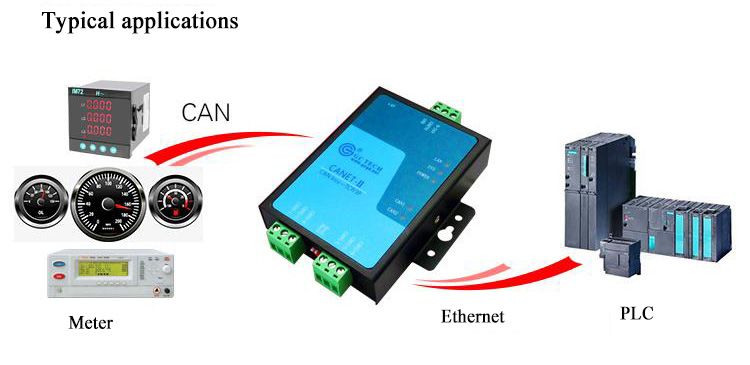 The Ethernet to CAN module is a tool for system integration development and multi-bus interconnection. Devices with Ethernet communication capabilities such as computers and PLC can be quickly connected to the CAN-bus network through Ethernet interfaces, which constitute a CAN-bus network control node for data processing and acquisition in the field of CAN-bus networks such as fieldbus labs, industrial control, smart communities, and remote monitoring.
Click here to go to the webpage of Ethernet to CAN Converter
---
Ethernet to CAN module supports three operating modes: TCP Server, TCP Client, and UDP. It can be configured by our company's software. The communication mode of Ethernet module is in conformity with Socket, and users can develop the upper computer software or configure by themselves based on standard Ethernet communication.
---
Ethernet to CAN
Specification
High-speed 32-bit industrial processor
Built-in FLASH memory to save parameters
Use external power supply DC+9~30V
Electrostatic discharge immunity level: contact discharge ± 4KV, air discharge ± 8KV
Electrical fast transient burst immunity level: ±1KV
Surge immunity level: ±1KV
Ethernet uses RJ45 interface, 10/100M automation
Ethernet supports ETHERNET, ARP, IP, ICMP, UDP, DHCP, DNS, TCP protocols
CAN-bus use OPEN3 terminal, support 5Kbps~1Mbps baud rate
CAN-bus supports CAN2.0A, CAN2.0B frame format, conform to ISO/DIS 11898 standard
Working temperature: -40°C~+85°C
---
If you want to learn more abour GCAN
Ethernet to CAN converter, fell free to contace us.


E-mail: seven.gcan@gmail.com
Tel: +86 17742765166