Introduce The Product Of Modbus/RTU-CAN converter_GCAN
1. Introduction



1.1 Overview

GCAN-204 converter has one CAN-Bus interface, one serial interface. The GCAN-204 integrates the Modbus RTU protocol. With the GCAN-204 , user can use the serial bus connect to other equipment (with Modbus RTU protocol) access the CAN-Bus communication interface.

GCAN-204 has integrated isolation protection module. Using DIN railway fixed, it can be easier to integrate into the control cabinet.

1.2 Properties at a glance

Modbus slave support function code: 03H, 04H, 06H, 16H
Serial baud rate: 600bps ~ 115200bps
CAN-Bus supports CAN2.0A and CAN2.0B frame format, conform to ISO/DIS 11898 standards
CAN baud rates: 5Kbps ~ 1Mbps
CAN-Bus isolation module insulation voltage: DC 1500V
Power supply: 9~30V (20mA,24V DC)
Interface using terminal blocks
Installation method: DIN rail
Working temperature range from -40 to 85 °C
Size: (L)113mm * (W)100mm * (H)21mm



2. Installation



2.1 Installation and fixation

GCAN-204 can be installed on a DIN rail, as shown in figure 2.1.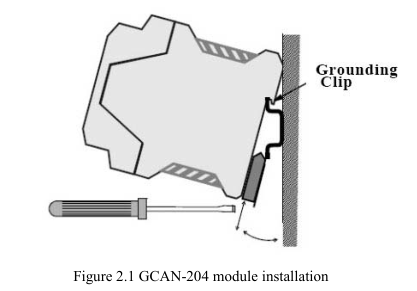 Note: DIN rails require to connect with ground wire.

GCAN-204 power interface definition, as shown in table 2.1.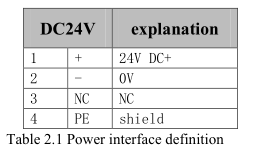 2.2 Connect to Serial bus



GCAN-204 serial interface use RS485 interface. The pin definitions are shown in table 2.2.

2.3 Connect to CAN-Bus



The pin definitions for the CAN side of GCAN-204 are shown in table 2.3.

Only CAN_H and CAN_H connect with each other, then CAN_L and CAN_L connect with each other. Then we establish a connection.